Do you take time to smell the roses? It may be a cliché, but new research suggests its sound advice for finding satisfaction in life.
As Covid-19 pandemic ravage the world, we see the fragility of life and how fast it can happen. I personally experienced this fragility in 1985 when Pauline, my life partner, was diagnosed with Multiple Sclerosis (MS). We started to appreciate the sensual pleasures directly involving our senses with things such as listening to ocean waves or birds singing; watching a sunrise or sunset or moon rise; appreciating cloud formations; smelling the fragrance of flowers; or just spending time together.
Perception is defined as the ability to see, hear, or become aware of something through your senses. This is a critical skill for creating my artwork. As my outlook on life changed, I was able to develop and enhance this skill. As a result, my artwork contains an underlying sensuality revealing my personality and emotions.
We can make art from life!
We can turn life, emotions, and experiences into art!
Let us talk about how I approached creating some artwork as well as curating an exhibition.
First, Pear Affair 1 and Pear Affair 2 was my first venture in creating still life artwork. In fact, Pear Affair 2 was recognized at the 5th Annual Black and White Spider Awards. I was nominated in the Professional – Still Life category.
You ask … what prompted me to create these images?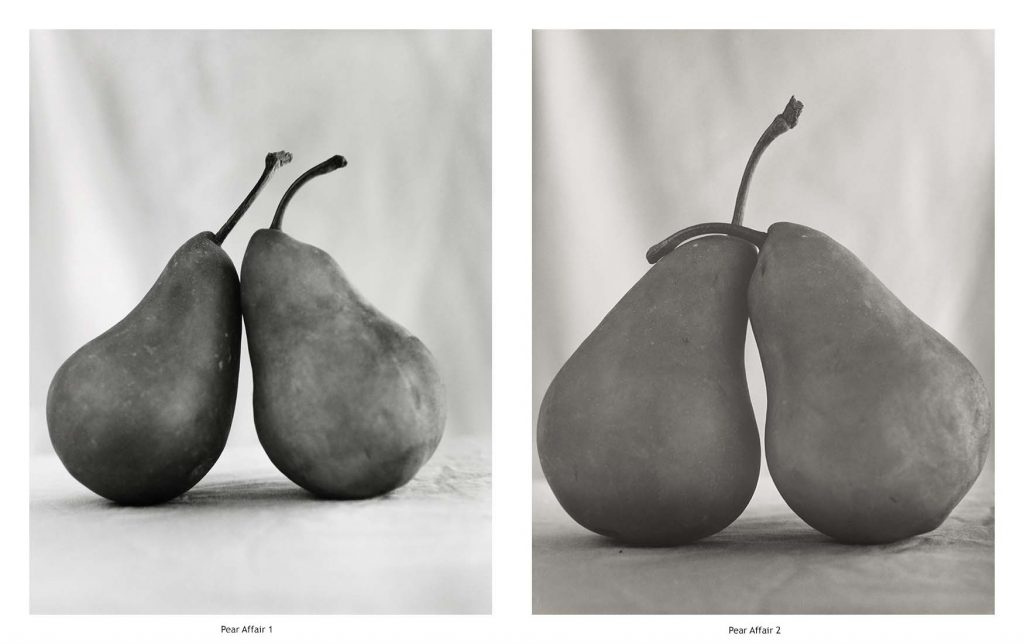 I had some bosc pears on the kitchen counter and the shapes captured my attention. I started to place them in different position. I thought to myself that this will work.
Next week at the grocery store, when selecting a new batch of pears, I paid attention to their shape. Above are the best two images. Pear Affair 2 is such a powerful image that I adopted it as my logo.
The second example, Sunnyside Reflections was an image in my 2004 Scotiabank Contact Photography Festival exhibition called "Enter".
This was my first exhibition after leaving the corporate world. I selected the Sunnyside Pavilion in Toronto because the gates represented that I was entering a new world.
At the same time, I wanted the image to present an underlying feeling. By visiting the site different days and times as well as lighting conditions, I selected a cold sunny February afternoon to create the image. To me it projects a feeling of a villa in a sunny location, like Spain. What do you think?
The third example, a selection of trees. These five images along with twelve other tree images were created in 2006 for my Scotiabank Contact Photography Festival exhibition called "Urban Optics". The tree images were captured at High Park in Toronto from mid-January to mid-March. The exhibition was held at the Gladstone Hotel.
Just over a month ago, I was in the local park for my daily walk. One of the first signs of Spring – buds on the trees! Immediately, I thought of my 2006 "Urban Optics" exhibition.
I decided to curate an exhibition for Instagram and Twitter. I titled the exhibition "Portraits in Nature" and featured a different image each day.
Exhibition Statement: "The majestic High Park trees represent nude models. As the days get warmer, the nude models will soon be blooming into their finest Spring outfits." In hindsight, Spring has not been as warm with several trees still presenting as nude models.